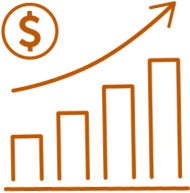 Economics introduces students to the principles, models, and conditions that influence how consumers, businesses, governments, and workers make and evaluate economic decisions. The course places emphasis on microeconomics concepts and quantitative reasoning as students employ logic, mathematics, and technology to interpret basic statistics and apply economic analysis. It also features macroeconomics topics and personal financial literacy content in addition to core concepts including scarcity and opportunity costs, supply and demand, market structures, competition, and behavioral economics.
Students will engage in flipped learning to drive understanding of their own mastery. In addition, they will collaborate with peers in class discussions and problem-solving exercises to apply and extend their knowledge of economics concepts. By the end of the course, students will possess deeper comprehension of a highly complex and evolving world tied to entrepreneurship, business, and daily life.
Please note: The OnRamps Economics course will be piloted in select districts during the 2023-2024 academic year. The course will become widely available to district partners for implementation in the 2024-2025 academic year.
FOUNDATIONS OF ECONOMICS
Understand underlying concepts of economic decision-making: incentives, trade-offs, opportunity cost, marginal thinking, and how trade creates value.
THEORY OF THE FIRM
Examine different types of competition and how businesses make cost and production decisions to impact their ability to compete.
THE ROLE OF MARKETS
Discover how markets work and the nature of competition through studying the formal model of supply and demand, how the two forces interact to create market equilibrium, how consumers and producers respond to price changes, and how taxes impact the market economy.
CONSUMER BEHAVIOR
Explore factors that influence how consumers make individual economic decisions including choice, customer satisfaction, risk, and irrational behavior.
TCCN: ECON 2302
UT Course Code: ECO 304K