OnRamps partners with you to advance equity and accountability while promoting a college-going culture.
OnRamps offers dual enrollment courses designed by the University of Texas at Austin faculty for high school students to engage in authentic college experiences and for their teachers to deepen their content knowledge and impact in the classroom.
Together with our district partners, we create dynamic experiences that advance student success while lowering barriers to access and opportunity.
2020 - 2021 STUDENT DEMOGRAPHICS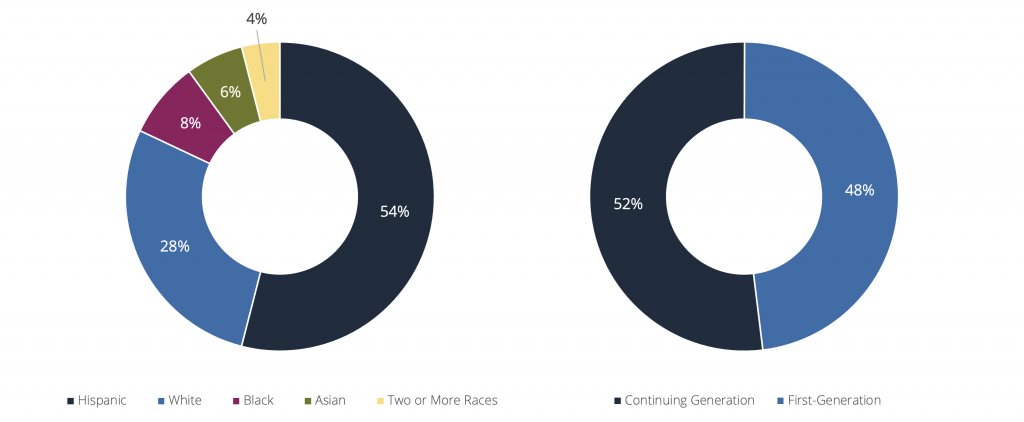 OUR OFFERINGS AND APPROACH
Our district partnerships are centered around:
Leveraging a facilitated network of teachers, faculty, institutional leaders, and districts and campus staff to have a greater impact on student success
Strengthening instructional and organizational capacity to increase recruitment, enrollment, retention and completion outcomes
Advancing equity and accountability goals while promoting a college-going culture
Our resources and support for district partners include:
Real-time access to a designated, regional point of contact on the OnRamps Partnership team
Guidance on recruitment, implementation, and retention
Professional development via our annual "OnRamps Summit" and "Partner Consortium"
In-person and on-demand informational and parent night presentations (available in English and Spanish)
Comprehensive promotional and administrative materials
Students prepare for the academic demands and social expectations of higher education through our college-credit bearing courses. They are empowered to take on the role of college student at a low risk, due in part to their status as non-matriculated students and our scaffolded support system, and they are able to demonstrate course proficiency beyond test scores and class rank.
Accountability Check: School districts may use OnRamps courses as an indicator of student achievement in their accountability ratings, as noted in the Texas Education Agency's 2020 Accountability Manual.
"A student completing an OnRamps dual enrollment course and qualifying for at least three hours of university or college credit in any subject area."
OnRamps courses, including those with labs, can be adapted for any instructional modality. Instructors receive resources and training throughout the year to maintain course fidelity and rigor for the following modalities:
Hybrid
In-person
Remote asynchronous
Remote synchronous
In this annual event—typically held over the summer—campus and district administrators, counselors, and faculty members convene along with returning OnRamps Instructors to examine the topic theme of the year as well as collaborate with colleagues from over 190 partnering districts across Texas.
OnRamps Summit 2020: June 25, 2020
Our last OnRamps Virtual Summit theme was The Power of Many: Aligning High School to College Expectations Through Quality and Agency.
Featuring over 50 synchronous sessions and a keynote by Dr. David Yeager participants engaged in discussions and sessions ranging on the topics of distance learning, advanced academics, preparing students for success in college and the workplace, and metacognition as a college readiness strategy.
NEW ADMINISTRATOR AND COUNSELOR SYMPOSIUM
Campus and district administrators and counselors new to implementing OnRamps have the opportunity to connect with one another and with members of the OnRamps Partnership team to kick-off their first year of implementation. They dive deep into OnRamps' four-pillar model of college standards, innovative pedagogy, technology-enhanced education, and aligned college experiences. Additionally, they explore OnRamps' approach to distance education, professional learning and development opportunities for educators, and key recruitment and retention strategies that support student and educator growth.