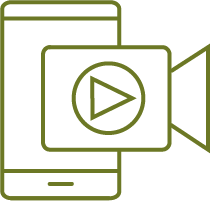 ARTS AND ENTERTAINMENT TECHNOLOGIES
Arts and Entertainment Technologies provides first-hand experiences with digital media technology, software, and applications for use in entertainment and artistic endeavors. Students will engage with multi-disciplinary tools; build technological skills; and apply methods of design thinking to create products, applications, and experiences for specific audiences. Students will participate in project-based learning to study an assortment of entertainment concepts and experiences; discover the underlying technology involved; and explore the cultural, philosophical, ethical, and practical aspects of entertainment technology.
FOUNDATIONS OF AET
Discover how design thinking creates an engaged user experience through interactive storytelling, and investigate how perceptions can be altered through the use of visualization software by creating animated and immersive experiences.
DIGITAL AND VIDEO GAME DEVELOPMENT
Explore the evolution, history, and trends in video gaming: the fundamentals of game design and theory; the sociology of gaming; and the psychology of player interactions to evaluate and redefine what it means to "play."
INTERACTIVE EXPERIENCE
Learn how individuals perceive and connect with the ever-changing world of app design: interfaces, spaces, and immersive experiences. Through the merging of technology, creativity, and data, users can be better understood, and mobile apps can be created to solve problems.
SOUND AND MUSIC DESIGN
The future of sound design has been charted by the evolution of music and sound editors. These advances allow sound and music to be used in the creation of meaningful and immersive experiences—designed and developed through the use of digital tools and technology.
DEMOCRATIZATION OF TECHNOLOGY
Explore disruptive technology innovations such as makerspaces, podcasts, and social media that profoundly alter the way artists and industries operate through multiple lenses.