HOUSTON COMMUNITY COLLEGE
Together, OnRamps and Houston Community College have been working to transform the mathematics classroom and create positive student outcomes related to matriculation and persistence.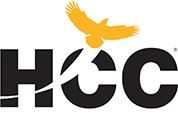 Beginning in 2018, OnRamps and Houston Community College (HCC) partnered to address a series of goals:
To facilitate collaboration between HCC and UT Austin mathematics faculty that impacts student engagement and persistence.
To support implementation of evidence-based pedagogy, specifically Inquiry-Based Learning, in HCC mathematics classrooms to impact student course completion.
To increase access to high-quality mathematics learning and instruction to high school and college students.
To explore the correlation between positive student outcomes, faculty professional development, and evidence-based pedagogy.
Since fall 2020, HCC Faculty across multiple campuses engaged in a new Faculty Innovation Fellowship in which OnRamps provided a uniquely tailored version of its evidence-based professional development model. This included engaging in two-to-three-day virtual Professional Learning Institutes per semester, along with monthly virtual workshops to implement Inquiry-Based Learning pedagogy and practice in the distance classroom, as well as ongoing planning and learning through Canvas LMS.
Throughout the fellowship, the Fellows worked in a collaborative cohort model to reflect on their practice, test strategies within the context of HCC, model innovation for other faculty members, and serve as mentors for subsequent cohorts.
By the Numbers
45 faculty supported
27 mathematics courses impacted
3,820 students served
"I think that my students became more independent and critical thinkers. It was very satisfying to observe their increasing participation and perseverance to solve math problems in each lesson." -HCC Faculty Fellow