HOUSTON COMMUNITY COLLEGE
Together, OnRamps and Houston Community College are working to transform the mathematics classroom through professional learning in order to create positive long-term outcomes related to matriculation and persistence in STEM majors and careers.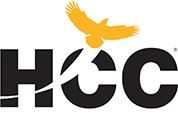 In 2018, OnRamps and Houston Community College (HCC) partnered to form the OnRamps Faculty Innovation Hub with two goals in mind:
1. To increase students' persistence and readiness for STEM education and careers, using evidence-based teaching to help them develop cross-disciplinary skills such as independent learning, problem solving, analytical thinking, persistence, and self-regulation; and
2. To support faculty in the mathematics college classroom applying innovative pedagogy such as Inquiry-Based Learning to boost student performance.
In January 2020, a pilot cohort of faculty across multiple HCC campuses began a two-year Innovation Fellowship. Building off of OnRamps' evidence-based professional learning and development model, the Faculty Fellows have engaged in virtual and in-person training with OnRamps faculty and staff.
The inaugural cohort of faculty will teach both college and high school students with the expectation of serving nearly 1,500 to 2,500 from Region 4 school districts.
Throughout the two-year fellowship, the pilot Faculty Fellows will work in a collaborative cohort model to reflect on their practice, test strategies within the context of HCC, model innovation for other faculty members, and serve as mentors for subsequent cohorts.