2022 ONRAMPS FALL CONSORTIUM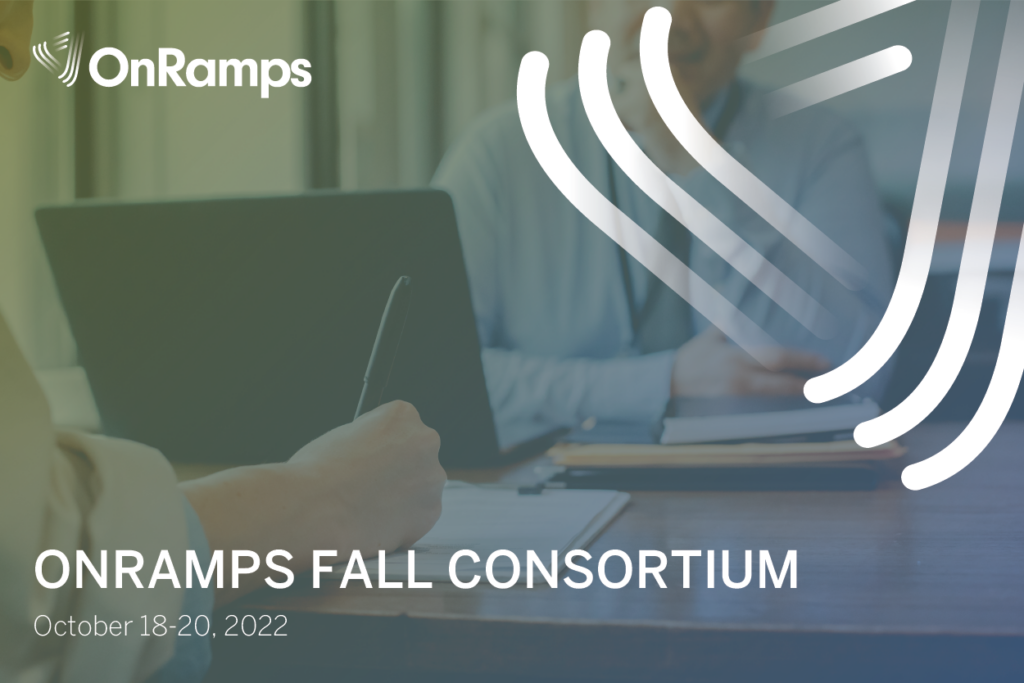 The OnRamps Fall Consortium comes at a timely moment in the semester that allows our statewide network of partners to come together in support of student and teacher success in OnRamps courses and beyond. This year, join us as we explore multiple topics including about data-driven supports; student success as it relates to access, readiness, and attainment; Instructor professional learning and development; OnRamps course pedagogy, and more!
FALL 2022 CONSORTIUM SESSIONS
Join Dr. Porter as she kicks off the OnRamps Fall Consortium by celebrating your growth and statewide data outcomes from 2021-2022. We will take a look back over the last year that will likely spark goal-setting conversations for you and your teams.
Tuesday, October 18, 9:00 - 9:50 AM CST 
A variety of success measures can be found when we look at students' high school grades as they correlate to their college grades. Knowing what success measures are most important for your students and your district team can cue timely advising conversations that encourage access, readiness, and attainment. Join us and see how these data scenarios can drive the decision-making process and result in a wider range of program impact.
Tuesday, October 18, 10:00 - 10:50 AM CST
Discover how a multi-layered system of support can set students up for success in OnRamps courses. We will dive into the data components OnRamps has to offer and share best practices for administrators, counselors, teachers, and students. Most importantly, we will explore how the data can help identify areas in need of support early in your implementation.
Tuesday, October 18, 11:00 - 11:50 AM CST 
The OnRamps History course engages students in Team-Based learning where units of instruction are taught in a three-step cycle. How does this translate into the daily classroom? Learn about the student and Instructor experience of Team-Based learning and understand how you can support students and teachers in successful implementation. This session will conclude with providing materials to be shared across campus leaders who also conduct classroom walkthroughs.
Tuesday, October 18, 1:00 - 1:50 PM CST
Are you curious to learn more about what the OnRamps Professional Learning and Development experience entails? Join us as we dive into the ins and outs of seasonal PLI sessions, the yearlong ecosystem of Instructor support, and how we manage changing circumstances. You will walk away with techniques to enhance Instructor support networks while gaining information to inform Instructor recruitment strategies.
Tuesday, October 18, 2:00 - 2:50 PM CST
This Social With A Purpose (S.W.A.P.) session allows partners in 4A, 5A, and 6A districts the time and space to come together, share ideas, and have solutions-focused conversations around current topics in education. Join this session to network with other OnRamps Partners and collaborate on best practices, lessons learned, and more.
Tuesday, October 18, 3:00 - 3:50 PM CST
Day 2 Wednesday October 19
Day 3 Thursday October 20